The Preserve's historic mansions and waterfront grounds are the backdrop for this unique chamber music series, created by Series Artistic Director Kathryn Lockwood.
Each concert features music and poetry, inspired by the time of year and themes of romance and resilience. Internationally renowned musicians present captivating performances with repertoire ranging from Beethoven, Bach, and Mozart to today's culturally diverse composers.
Fall 2021: Connected Play
YouTube Premiere on Friday, November 26 at 8 pm!
Live Concert in Castle Gould's Great Hall
Sunday, October 10, 2021
7:00 pm
Deborah Buck, Violin
Charles Yang, Violin
Kathryn Lockwood, Viola
Christine Lamprea, Cello
Yousif Sheronick, Percussion
Four Seasons in Music welcomes back our live audience at the Fall 2021 concert: Connected Play.
In the course of three years, this landmark series has developed a community of artists and audience members who connect with each other through music – whether in person or virtually. After six wonderful virtual concerts, Artistic Director Kathryn Lockwood has created an extraordinary new program that encourages the live interaction that we lost during the pandemic.
Every piece in this eclectic program – from traditional works by Bach and Beethoven to the more adventurous repertoire – focuses on communication and conversation – on the interplay between the artists and the audience who are physically present and participating in this live concert.
Connected Play brings us together in the magnificent Great Hall in Castle Gould, where the concert will be performed "in the round" – the audience will surround the center stage, which allows the audience to feel more involved and engaged in the concert experience.
Dutch composer Merlijn Twaalfhoven asks, "What is music making? Is it high performance? Or can it be … play? In the classical music of today, the separation of performer and listener is very strict and clear. We might forget how for centuries (and still today, outside the conventional concert halls), music was the most effective way to connect, to create together, to participate, to play… Music establishes a sense of unity."
According to Kathryn Lockwood, "'Play' is at the core of this performance."
Join us as our community of music lovers reconnects to celebrate music, hope, and each other!
PROGRAM
Sonata No. 2 in A Minor: Andante & Allegro for Solo Violin, BWV 1003 by J.S. Bach 
Devil Dance (1996) for Flute & Percussion, arr. for Viola by Payton MacDonald
String Trio in G Major, Op.9/1 I. Adagio – Allegro con brio by Ludwig van Beethoven
Connected: Improv for Violin and Percussion by Charles Yang & Yousif Sheronick
Moyugba Orisha for Solo Cello: Eleggua Ala Lu Banche & Obbana by Alejandro Cardona
Play for String Quartet by Merlijn Twaalfhoven
Four Corners for Solo Percussion: Kanjir, Tar, Riq, Bodhrah by Yousif Sheronick
Serious Fun Duo for Violin and Cello by Jessie Montgomery
Capriccio (Andante con moto) in E Minor, Op. 81/3, (1843) by Felix Mendelssohn Bartholdy 
Loopy by Charles Yang

Purchase tickets online or call 516.304.5076
TICKETS
Conservancy Members:
– Adult: $50
– Youth: $25 (age 10 – 17)
Non-Members:
– Adult: $60
– Youth: $30 (age 10 – 17)
Please note:
– Proof of COVID-19 vaccination and ID  is required to enter Castle Gould's Great Hall.
– Face masks are required for all audience members.
– Concert only – dinner will not be served at this event.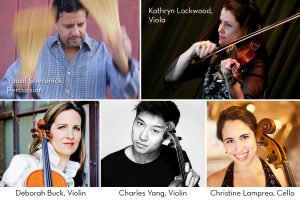 View these concerts on YouTube now:
2020 Spring –  Honey from Alast
2020 Golden Rule – A Summer Playlist
2020 Only Breath – A Fall Musicale
2021 Winter Dreams
2021 Spring Renewal    
2021  Be Like Water – A Summer Dance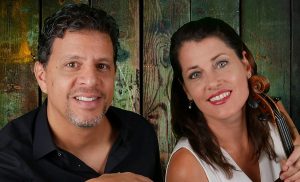 Kathryn Lockwood & Yousif Sheronick of duoJalal