The Preserve's historic mansions and waterfront grounds are the backdrop for this unique chamber music series, created by Series Artistic Director Kathryn Lockwood.
Each concert features music and poetry, inspired by the time of year and themes of romance and resilience. Internationally renowned musicians present captivating performances with repertoire ranging from Beethoven, Bach, and Mozart to today's culturally diverse composers.
During the pandemic, the concerts are recorded in Hempstead House, then premiere on YouTube for everyone to enjoy.
Three concerts from 2020 are on YouTube now:
Spring –  Honey from Alast
Golden Rule – A Summer Playlist
Only Breath – A Fall Musicale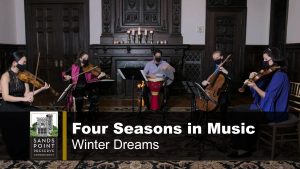 WINTER DREAMS
on YouTube
As we begin a new year, hoping and expecting a better one than the last, our dreams feed and nourish our souls. The first concert of the 2021 series is a celebration of beginnings and dreams of our future. The brilliant program will inspire your dreams with works by Bach, Beethoven, Dvorák, Rhiannon Giddens, Jessie Montgomery, Yousif Sheronick, William Grant Still, Anjna Swaminathan, and Andrew Waggoner.
A much-loved guest artist in the series, violinist Deborah Buck, joins duoJalal's Kathryn Lockwood and Yousif Sheronick – along with another married couple, Hyeyung Sol Yoon on violin and Greg Beaver on cello.
Download the Program & Notes here!
PROGRAM
Suite No. IV in E-Flat Major, BVW 1010 Prelude by J.S. Bach (1685-1750)
"…to think again of dangerous and noble things" by Andrew Waggoner (b. 1960)
Allegro String Quartet in D Major, Op. 18/3 by  Ludwig van Beethoven (1770-1827)
Pratikriti: Rebellion from Anandham: A Homecoming for solo violin by Anjna 1841-Swaminathan (b. 1992)
At the Purchaser's Option with variations for string quartet by Rhiannon Giddens (b. 1977)
Frame Drum Solo by Yousif Sheronick (b. 1967)
Rhapsody No. 1 by Jessie Montgomery (b. 1981)
Finale from the American String Quartet by Antonin Dvorák (1841-1904)
Mejorana y Socavon & Cumbia y Congo from Danzas de Panama by William Grant Still (1895 – 1978)