Falaise Tours Resume June 10, 2022!
Falaise (French for "cliff") is one of the few intact historic houses remaining on Long Island's North Shore. In 1923, after Harry F. Guggenheim married Caroline Morton, his father Daniel presented him with 90 acres of waterfront property on the estate. Harry hired famed architect Frederick J. Sterner along with Polhemus & Coffin to design his home in the style of a 13th-century Norman manor house.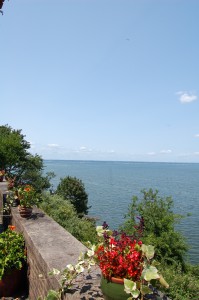 Distinctive features of the house include an enclosed cobblestone courtyard, thickly mortared brick walls, steeply pitched roofs of heavy tile, and a round tower. The medieval atmosphere continues inside with archways, thick wood beams, textured plastered walls, and carved stone fireplace mantels.
Falaise is furnished with antiques, many from the 16th and 17th century; Harry and Caroline collected architectural fragments of medieval and Renaissance-period buildings from their extensive travels in Europe. There are woodcarvings, sculptures, columns, doors, gates, Renaissance paintings and several important pieces of modern art.
A beautiful swimming pool is located behind the house. Originally a rose garden, Harry converted it after he became ill, and doctors told him he needed exercise.
Harry Guggenheim had a strong commitment to public service. He was Ambassador to Cuba during the Hoover administration. A Navy pilot, he served in both world wars. He had a lifelong interest in aviation, and Charles Lindbergh was a close friend and frequent visitor to Falaise. Harry was also instrumental in securing funding for the research of rocket pioneer Robert Goddard. In 1939, Harry Guggenheim and Alicia Patterson were married. Shortly after, they founded Newsday, Long Island's daily newspaper.
Harry Guggenheim was an avid horseracing fan. He raised and raced thoroughbred horses, and he helped establish the New York Racing Association. His trophies, awards, and racing memorabilia are on display at Falaise.
Today at Falaise
Falaise offers docent-led tours on Fridays through Sundays from June 10th through November. Tours begin at 12:00 pm and tickets can be purchased in the Welcome Center. Tours are $15 per person, 12 years old and up. Parking is an additional $15 per car, $30 per bus. Parking is free with membership in the Sands Point Preserve Conservancy. This historic home has limited handicap access. Please note that indoor photography is not allowed.