The Preserve's historic mansions and waterfront grounds are the backdrop for this unique chamber music series, created by Series Artistic Director Kathryn Lockwood.
Each concert features music and poetry, inspired by the time of year and themes of romance and resilience. Internationally renowned musicians present captivating performances with repertoire ranging from Beethoven, Bach, and Mozart to today's culturally diverse composers.
During the pandemic, the concerts are recorded in Hempstead House, then premiere on YouTube for everyone to enjoy.
View these concerts on YouTube now:
2020 Spring –  Honey from Alast
2020 Golden Rule – A Summer Playlist
2020 Only Breath – A Fall Musicale
2021 Winter Dreams
2021 Spring Renewal
Be Like Water – A Summer Dance
duoJalal & Pilobolus
YouTube Premiere on Saturday, July 3, 2021 at 8:15 pm
Kathryn Lockwood, Viola
Yousif Sheronick, Percussion
Casey Howes, Dancer
Jacob Michael Warren, Dance Captain
Renée Jaworski, Pilobolus Artistic Director
Frank Apollonio, Director of Photography
Doron Schächter, Recording Engineer
Summer is a season for movement! Be Like Water – A Summer Dance is a unique collaboration of music and dance created by duoJalal and two extraordinary dancers, Casey Howes and Jacob Michael Warren, from Pilobolus, one of the most innovative dance companies in the world. Since 1971, Pilobolus has tested the limits of human physicality to explore the beauty and the power of connected bodies.
The concert includes the world premiere of a new duoJalal commission by Eve Beglarian, "Be Like Water" and a new poem written for this concert by Evan Warren, "Water."
The concert begins with a series of solos and duets performed by Kathryn Lockwood and Yousif Sheronick followed by four collaborations with the Pilobolus dancers.
PROGRAM
Suite No. 5 in C minor, BWV 1011 by J.S. Bach (1685-1750)
Lost & Found for viola and percussion by Kenji Bunch (b. 1973)
Being 7 for Solo Percussion and Live Loops by Yousif Sheronick (b. 1967)
Viola Suite No. 2 in D Major by Max Reger (1873-1916)
"Be Like Water" World Premiere by Eve Beglarian (b. 1958)
In Nomine – all'ongherese "Damjanich emlekko" by György Kurtág (b. 1926)
Improv for Drum and Dancer "Broken Bodhran"
Dervishes for Viola and Percussion by Inessa Zaretsky (b. 1964)
Download the Program & Notes here.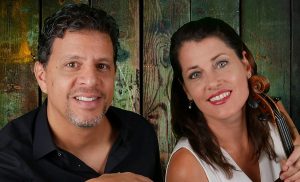 Kathryn Lockwood & Yousif Sheronick of duoJalal