Join us for a live online storytelling event
on Monday, April 27 at 11 am
THE BOY & THE BOY KING
by George H. Lewis and AD Lubow
with illustrations by George H. Lewis
The creators of this magical tale of childhood wonder and friendship join us for a live online session on Monday, April 27 at 11 am. They'll tell the story of Arthur and his imaginary friend Bun-Bun's adventure across continents and centuries to befriend another nine-year-old boy: King Tut. We'll view 40 of the book's beautiful illustrations, and a Q&A follows. Appropriate for children of all ages – and adults!
The book will be published in the Fall of 2020 by American University in Cairo Press, in advance of the 100th anniversary of the discovery of King Tut's tomb.
Renowned Curator Jane Curley, responsible for curating the acclaimed New-York Historical Society exhibitions, Eloise at the Museum and Madeline in New York: The Art of Ludwig Bemelmans, said this about "The Boy and the Boy King."
In 1956, the conservationist Rachel Carson wrote, "If I had influence with the good fairy, I should ask that her gift to each child in the world be a sense of wonder so indestructible that it would last throughout life, as an unfailing antidote against the boredom and disenchantments of later years, the sterile preoccupation with things that are artificial, the alienation from sources of our strength."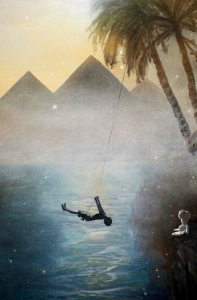 Childhood wonder is often dimmed – or doomed – before we reach adulthood. "The Boy and the Boy King" by George H. Lewis and A.D. Lubow, with illustrations by George H. Lewis, makes a brilliant case for why we need to cultivate wonder in our lives, today more than ever.
In this parable for parents and children, we meet Arthur and his imaginary friend, Bun-Bun, who understands that the innate spiritual wisdom of children often flies higher than adult wits can follow.
Bun-Bun is a champion for self-acceptance in the face of adult pressure. He acts as coach, cheerleader and humorous preceptor as he takes Arthur on a journey through time to the ancient New Kingdom of Egypt. There, he introduces Arthur to the boy king, Tutankhamun, and a remarkable friendship grows between the boys.
Like all the best picture books, "The Boy and the Boy King" is as appealing to adults as it is to children. It contains different levels of reference and humor that encourage dialogue between parent and child. The very best picture books also contain magic, which is certainly true here. This alchemical combination of word and image leaves an indelible mark upon the imagination, one that cannot be forgotten or outgrown.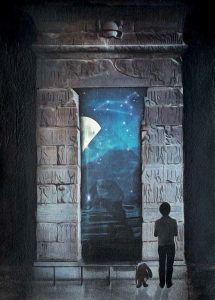 In his exquisite watercolors, George Lewis creates an arresting vision of past, present and future worlds. With fellow author A.D. Lubow, he invites parents to ask themselves this critical question: how do you support and protect a child's imagination, that spiritual connection to creation?
Bun-Bun's answer to this is a wise one: he teaches Arthur that when you focus on the wonders and realities of the universe, you will never be alone, never at a loss for a friend, imaginary or otherwise. As Bun-Bun says in his book of unfamiliar quotations: may we all grow up to be children.
About Artist George H. Lewis
George H. Lewis, previously the court painter to the Sultan of Oman, is an internationally acclaimed British artist. His diverse artistic practice includes paintings, portraits, photography, sculpture, writing, and music. His work has been collected by presidents, heads of State, CEOs, spiritual leaders, and other public figures worldwide. Lewis is a Gross National Happiness Ambassador of the Kingdom of Bhutan and is currently Artist in Residence at Steinway & Sons.
About Author A.D. Lubow
A.D. Lubow is co-author of the forthcoming book The Boy and the Boy King, based on the artwork of May We All Grow Up To Be Children by George Lewis.  Lubow is an ad agency president and creative director, a children's book writer, a composer of choral music and a lyricist of popular songs. His company, AD Lubow, is a communications agency with clients in the arts, higher education and environmental and social causes, including Columbia University, American Ballet Theatre, The Nature Conservancy and Pope Francis's historic visit to New York.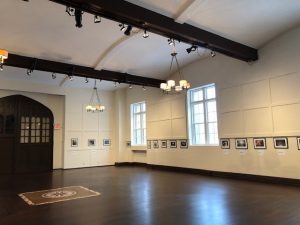 The illustrations from "The Boy and The Boy King" were displayed in Castle Gould's Great Hall in a special exhbition entitled "May We All Grow Up To Be Children" in 2019.