The Preserve's historic mansions and waterfront grounds are the backdrop for this unique chamber music series, created by Series Artistic Director Kathryn Lockwood.
Each concert features music and poetry, inspired by the time of year and themes of romance and resilience. Internationally renowned musicians present captivating performances with repertoire ranging from Beethoven, Bach, and Mozart to today's culturally diverse composers.
During the pandemic, the concerts are recorded in Hempstead House, then premiere on YouTube for everyone to enjoy.
View these concerts on YouTube now:
2020 Spring –  Honey from Alast
2020 Golden Rule – A Summer Playlist
2020 Only Breath – A Fall Musicale
2021 Winter Dreams
SPRING RENEWAL
YouTube Premiere on Saturday, May 8 at 8:15 pm
Deborah Buck, Violin
Min-Young Kim, Violin
Kathryn Lockwood, Viola
Raman Ramakrishnan, Cello
Yousif Sheronick, Percussion
As the Spring season warms and the earth greens and blooms, we celebrate the renewal of life that nourishes our souls. Works by Bach, Beethoven, Schumann, Dvorak, Lena Auerbach, Giovanni Sollima, Kenji Bunch, Glen Velez, and Gyrgy Ligeti comprise the Spring 2021 concert, created by series Artistic Director Kathryn Lockwood. Through this eclectic program, we reflect on the past year in which we lived in isolation to survive the pandemic. Now, we take a moment to appreciate all that we have endured – to find new directions in our renewed lives.
In honor of Mother's Day on May 9, Kathryn programmed works that honor mothers: Bach's solo works written right after his first wife Maria Barbara died – she bore him seven children; a gorgeous slow movement of Schumann's string quartet written right after his wife and love of his life Clara gave birth to their first of eight children; and the popular "Songs My Mother Taught Me" by Dvorak. Originally a song and later transcribed by Fritz Kreisler for violin solo based on the poem of the same name by Czech poet Adolf Heyduk:
Songs My Mother Taught Me
Songs my mother taught me, In the days long vanished;
Seldom from her eyelids were the teardrops banished.
Now I teach my children, each melodious measure.
Oft the tears are flowing, oft they flow from my memory's treasure.
PROGRAM
Violin Partita No. 2 in D minor, BWV 1004: 

I. Allemande, II. Corrente

by 

J.S. Bach

(1685-1750)

Homage for Frame Drums and Viola by

Glen Velez

(b. 1949)

String Quartet in B-flat major, 

Op. 130

III. Andante con moto ma non troppo

by

Ludwig van Beethoven

(1770-1827)

Sonata for Solo Cello: II. Capriccio – Presto con slancio by

György Ligeti

(1923-2006)

String Quartet in A Minor, Op. 41 No. 1

III. Adagio

 by 

Robert Schumann

(1810-1856)

Until Next Time for solo viola by

Kenji Bunch

(b. 1973) 

Par.ti.ta for Solo Violin 1. Adagio-Libero (Preludio), 

3. Andantino, 4. Serioso

by

Lera Auerbach

(b. 1973)

Songs My Mother Taught Me arr. string quartet

by Antonin Dvorák

(1841-1904) Arrangement by  Jason Slayden

Waves for string quartet and percussion by 

Giovanni Sollima

(b. 1962)
Program Notes by Kathryn Lockwood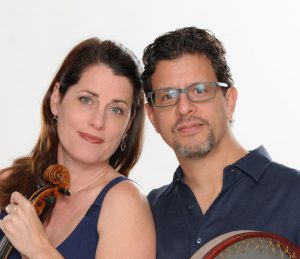 Kathryn Lockwood & Yousif Sheronick of duoJalal
Spring Renewal


May 8, 2021




8:15 pm - 9:15 pm