Join us for this monthly series of themed walks as we explore different aspects of the preserve's environment, encompassing its unique physical features and wildlife, as well as critical conservation issues and helpful practices to create a healthy, sustainable environment.
Our expert guides, environmental educator Hildur Palsdottir and Port Washington Monarch Alliance Founder David Jakim, bring a range of perspectives for each outdoor adventure. Check back for information about each upcoming walk – and join us on Second Saturdays for an enriching experience on the preserve.
Participants must maintain social distancing and wear facemasks for everyone's health and safety.
NEXT: Mother Nature's Blooms
NOTE NEW DATE: Sunday, May 9 at 10 – 11 AM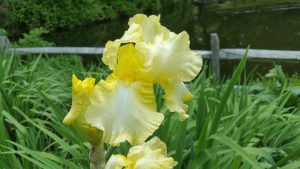 On Mother's Day, our expert guides will show you a multitude of ways in which nature celebrates motherhood! One of our region's largest trees, the "Mother Oak," Quercus Rubra, stands at six feet in diameter – recent discoveries show that oak trees and other trees of the forest send carbohydrates and chemical signals to their offspring and kin underground through their root systems, facilitated by fungus that live with the roots. These old trees are critical to the health and future of the forest. The Iris, named for the Greek goddess of the rainbow, colors, sea, sky, truth, and fertility, is said to bridge the earth and heavens, carrying messages from mortals to the gods Zeus and Hera. We'll visit the yellow iris by the pond. Hear the story of the Lily, dedicated to Hera, goddess of women, marriage, family, childbirth and wife of Zeus; Roses, Tulips, and Daisies located throughout the Preserve have all been used to celebrate motherhood in various traditions through the ages. Discover these and many other meanings for Spring's blossoms.
2021 GUIDED NATURE WALKS
Saturdays at 10 – 11 AM
January 9 – Evergreens & Ecology
February 13 – Winter Animals: Tracks & Signs
March 13 – Winter Menu
April 10 – Spring's Arrival!
Sunday, May 9 – Mother Nature's Blooms
June 12
July 10
August 14
September 11
October 9
November 13
December 11
TICKETS
Members: $10 per adult; children are free
Non-Members: $15 per adult, $5 per child; includes parking
Payment received at the Gatehouse.
June 12, 2021




10:00 am - 11:00 am

July 10, 2021




10:00 am - 11:00 am

August 14, 2021




10:00 am - 11:00 am

September 11, 2021




10:00 am - 11:00 am

October 9, 2021




10:00 am - 11:00 am

November 13, 2021




10:00 am - 11:00 am

December 11, 2021




10:00 am - 11:00 am