The Conservancy offers unique co-curricular programs for Middle and Secondary Schools, incorporating New York State Common Core Curriculum standards into site specific study. Our experienced educators engage students in interactive, interdisciplinary programs, which utilize the Preserve's historic mansions and natural environment.
SECONDARY SCHOOL: "Immigration and the Gatsby Era"
Bring your students for a visit to the former Guggenheim Estate to engage in dynamic, hands-on activities based on three curricular themes:
– Immigration in late the 19th and early 20th centuries
– Class conflict in the early 20th century
– F. Scott Fitzgerald's American classic, The Great Gatsby
During this two-hour interdisciplinary program, activities include independent and group exploration of Hempstead House (1912), a 50,000-square-foot Tudor-style mansion, listed on the National Registry of Historic Places; analysis of historic photographs and documents; and a re-enactment of a Gatsby-style party.  This interactive learning experience will enhance students' classroom studies while allowing them to be fully immersed in the opulent lifestyle that defined Long Island, New York's legendary Gold Coast Period .
This program supports the following New York State Common Core Curriculum standards:
United States History and Government 11.5 INDUSTRIALIZATION AND URBANIZATION (1850s TO 1920s). (Standards: 1, 3, 5; Themes: TCC, GEO, SOC)
English Language Arts RL.11-12.2; RL.11-12.3; RL.11-12.9; SL.11-12.4; SL.11-12.5
Fee: $10/student
Timing: Year-round
MIDDLE SCHOOL: "Environmental Study at the Sands Point Preserve"
A 2 ½ hour outdoor learning experience for Middle School students.
The Preserve fea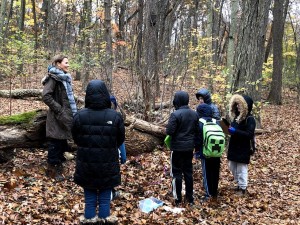 tures a variety of landscapes including a freshwater pond, a mile-long beach, cliffs, lawns, formal gardens, and dense woods. In this 2.5-hour outdoor program, Middle School students will visit these varied landscapes to engage in dynamic, hands-on activities designed to develop their skills of analysis and inquiry. Students will conduct plot studies in which they will hypothesize, observe, collect data, and draw conclusions about the organisms, plant life, and non-living elements of the Preserve.
This program supports the following New York State Science Learning Standards:
Interdependent Relationships in Ecosystems: MS LS2-2; MS LS-5
Growth, Development and Reproduction of Organisms: MS LS1-5
Fee: $10/student
Timing: Fall & Spring, weather permitting
For more information and to schedule a school visit, contact Tracy Strianese, Education Manager,  at 516.570.2185 and Tracy.Strianese@sandspointpreserve.org