Castle Gould – Sound Stage & Great Hall
Modeled after the medieval Castle Kilkenny in Ireland, the enormous Castle Gould houses a 7,000-square-foot New York State-certified sound stage that is frequently selected by film and television production companies and independent filmmakers. It is fully air-conditioned and heated, with large capacity doors for easy load in and out. Also at Castle Gould is the Great Hall – a fully renovated 2,700-square-foot multi-purpose space.
Hempstead House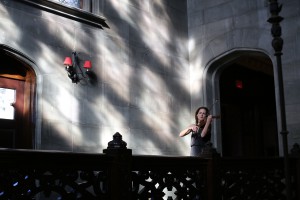 Hempstead House is a 40-room, 50,000-square-foot Tudor-style stone mansion built in 1912; its magnificent interior features the Summer and Winter Living Rooms, mahogany-paneled Library, Billiards Room, and Dining Room, a second-story Breakfast Room – and the sunken Palm Court – all with extraordinary views of the park grounds and the Long Island Sound.
Staging & Craft Services
While productions are filming in nearby locations, the Preserve can serve as a spacious staging area as well as a convenient place to serve cast and crew meals throughout the day.