The Preserve's historic mansions and waterfront grounds are the backdrop for this unique chamber music series, created by Series Artistic Director Kathryn Lockwood.
Each concert features music and poetry, inspired by the time of year and themes of romance and resilience. Internationally renowned musicians present captivating performances with repertoire ranging from Beethoven, Bach, and Mozart to today's culturally diverse composers.
The concerts are followed by themed receptions – a time to mingle with the artists, friends, and concert-goers.
2024 Series
Winter 2024
"Ikigai"
Sunday, January 14 at 3 pm
Hempstead House
$40 Members/$50 Non-Members
Click here to purchase tickets
duoJalal (Kathryn Lockwood, Viola & Yousif Sheronick, Percussion)
Yumi Kurosawa, Japanese Koto
Ilmar Gavilan and Doori Na, Violin
Raman Ramakrishnan, Cello
A Winter Concert celebrating the Japanese "ikigai" – a reason for living. Ikigai brings us all together to a place where passion, mission, vocation, and profession intersect, infusing the afternoon with meaning. duoJalal, joined by Japanese Koto player Yumi Kurosawa, violinists Ilmar Gavilan and Doori Na and cellist Raman Ramakrishnan will dive into the traditional and non-traditional sounds of Japan.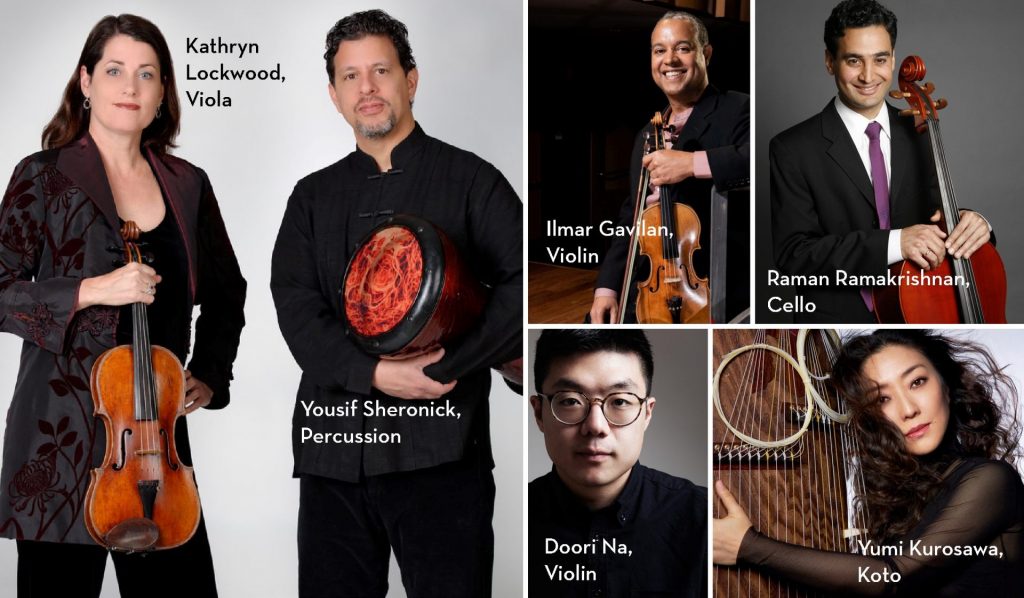 ---
Spring 2024
"A tour de France"
Sunday, May 19 at 5 pm

duoJalal (Kathryn Lockwood, Viola & Yousif Sheronick, Percussion)
Deborah Buck and Min-Young Kim, Violin
Caroline Stinson, Cello
Orion Weiss, Piano
Spring in Paris – there isn't a better time to visit! This concert celebrates both the French Fete des Voisins – an evening get together with neighbors and friends for a moment of conviviality and Fete des Meres for Mother's day. Come feast your ears with French composers, old and new, when duoJalal is joined by violinists Deborah Buck and Min-Young Kim, cellist Caroline Stinson and pianist Orion Weiss.
---
Summer 2024
"Mother Country"
Sunday, July 14 at 5 pm

England, the mother country of English speaking countries around the world, began its search for global dominance during the 15th century uniting countries in the Commonwealth. This program showcases pieces from Commonwealth countries including Canada, Australia, South Africa and England.
---
Fall 2024
"Romani Reach"
Sunday, November 10 at 3 pm
One of the most significant musical genres in Hungary is the traditional folk music of the Romani people. Did you know that non-Hungarian composers like Dvorak, Brahms and Haydn were all inspired and influenced by Romani music. Romani Reach will bring together both Hungarian and Romani influenced pieces in a Four Seasons Finale not to be missed!
 ________________________________
View these concerts on YouTube now:
2020 Spring –  Honey from Alast
2020 Golden Rule – A Summer Playlist
2020 Only Breath – A Fall Musicale
2021 – Winter Dreams
2021 – Spring Renewal    
2021  Be Like Water – A Summer Dance
2021 Fall – Connected Play
2022 Winter – The Shape of Restlessness
2023 – Spring Dance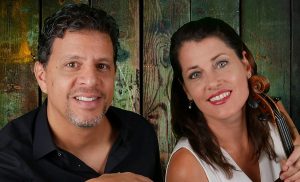 Kathryn Lockwood & Yousif Sheronick of duoJalal