This innovative series of six concerts will follow the course of Jazz history, from its roots in Ragtime and Dixieland, to the Swing / Big Band era, through Cool Jazz of the 1950s, and beyond. The original dates were canceled due to COVID-19, but we plan to reschedule the wonderful artists in future performances. Please check back for updates. Set in historic Hempstead House, the series showcases six outstanding bands, featuring many of NYC's top jazz musicians. Take in this uniquely American music form, while savoring fine wine with friends and family.
Each concert is performed in two acts – the first set pays tribute to an era in the fascinating history of Jazz, while the second set bridges the gap into the present and future. Hear the influences of the great composers of the past as the artists play their distinctive original compositions and/or more contemporary music.
The series was created by Artistic Director Bobby Katz. See below for the concert line up and the fantastic bands you will hear!
TICKET INFO
Conservancy Member: $45 / person
Non-Member: $55 / person
Purchase tickets online at the links below or call the ticket line to save credit card fees: 516.304.5076.
Concert 1: Thursday, January 16 – SOLD OUT!
1900s-1920s – New Orleans Dixieland
Danny Lipsitz and the Brass Tacks
ABOUT THE BAND
Danny Lipsitz – Clarinet, Saxophone, and Vocals
Danny Jonokuchi – Trumpet
Brendan Lanighan – Trombone
Bryan Reeder – Piano
Alec Safy – Acoustic Bass
Kevin Congleton – Drums
An up-and-coming name on the jazz, swing dance, and early rock 'n' roll circuits, Danny Lipsitz and The Brass Tacks put on a high-energy performance that features a mix of vintage jazz, swing, and early rock 'n' roll music. The Brass Tacks perform weekly at many of NYC's most sought-after venues and have toured their show about the saxophone in rock 'n' roll music across the tri-state region. As a saxophonist and clarinetist, Danny has performed in over 15 countries and has worked with rock 'n' roll, swing music, and jazz icons including Julian Lennon, Harry Nilsson, Ronnie Spector, Mark Hudson (Aerosmith, Ringo Starr, Ozzy Osbourne), Denny Laine (Wings, The Moody Blues), Joey Molland (Badfinger), Carmine Appice (Vanilla Fudge), Billy Vera, Maria Muldaur, Ginkgoa, The Hot Sardines, Lucky Chops Brass Band, The Losers Lounge, and The Gordon Webster Swing Band.
ABOUT THE CONCERT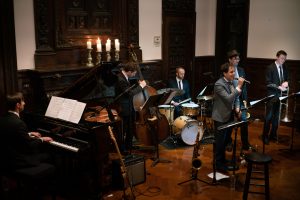 In the first set of this sold outperformance, The Brass Tacks  delved into the earliest days of jazz, starting with ragtime and moving through the hits of the 1920s. With classic "New Orleans Dixieland style" instrumentation, including a horn section, the band covered the quintessential artists of the period, from Scott Joplin, through the Gershwins, Louis Armstrong, and Fats Waller. In the second set, the band fast-forwarded to the start of a new period of American music: rock 'n' roll. Their arrangements of music by Chuck Berry, Louis Prima, and Ray Charles, among others, demonstrated how the spirit of jazz and rock 'n' roll are part of the same lineage of great American music.
Concert 2: Thursday, March 19 – CANCELED!
1920s-1930s – The Jazz Age
Fleur Seule
Please check back for new concert date!
ABOUT THE BAND
Allyson Briggs – Vocals, Bandleader
Andy Warren – Trumpet, Percussion, Musical Director
Sean Fitzpatrick – Piano
Alec Safy – Bass
Shareef Taher – Drums
Fleur Seule, Manhattan's very own 1940s jazz band, debuts at the Sands Point Preserve – this time in Castle Gould's Great Hall. Reviving classic chanson, bossa nova, jazz standards, and more, this young group of old souls brings new life and fresh sounds to favorite tunes, with playful renditions and intimate moments to let you travel back in time. Led by "The Glamour Girl of Jazz," Allyson Briggs, this band has been keeping the classics alive, with sold-out crowds at Dizzy's Club Coca-Cola and a five-year residency as the house band of Tavern on the Green. Their 5th album, "Standards and Sweet Things," gives a fuller look into the heart of Fleur Seule and will comprise much of the evening's repertoire.
ABOUT THE CONCERT
Fleur Seule presents the classics: starting in the early days of hot jazz and the beginnings of the Swing Era, they will take you through 1920s Paris to 1930s New York. Relive the jazz age, as Fleur Suele takes you through the Great American Songbook standards of the era. In their second set, the WWII Era swing sounds of the 1940s will take over, in addition to a tribute to the Latin music craze that swept the country in the 1950s. From Edith Piaf to Celia Cruz, travel back in time for a wide variety of beloved hits and rare gems in seven languages, with a song for everyone to enjoy.
Concert 3: Thursday, May 14 – Canceled
1930s – Swing / Big Band Era
The Evan Sherman Big Band
ABOUT THE BAND
The Evan Sherman Big Band is one of NYC's hottest big bands, led by American drummer and arranger Evan Sherman. In his mid-20s, Evan has toured, recorded, and performed with icons including Ron Carter, Roy Hargrove, Jimmy Heath, and Wynton and Branford Marsalis. Founded in 2014, this 15-piece big band got its start playing late night dance parties at Lincoln Center's Dizzy's Club, and has since received worldwide recognition as having reignited the energy and vibrancy of the swinging jazz era. The group's personnel mixes seasoned veterans with young rising stars and has been featured at Jazz at Lincoln Center, Rainbow Room, Blue Note, Ginny's Supper Club, The Django, and more.
ABOUT THE CONCERT
The Evan Sherman Big Band performs selections of the Swing/Big Band era, illuminating masterpieces by Duke Ellington, Billy Strayhorn, Benny Goodman, Jimmie Lunceford, and more of America's orchestral trailblazers. Within the second set, hear music that grew in and out the 1930s – from early traditional and classical, to bebop, to R&B/Soul, including hits by Marvin Gaye and Earth Wind & Fire. Also, enjoy original compositions by members of the band. This 15-piece, multi-generational big band's extensive sound palette and vast repertoire has inspired audiences worldwide to get up and dance – come join us!
Concert 4: Thursday, June 18 – Canceled
1940s – Bebop
Bobby Katz Quartet
ABOUT THE BAND
Ted Rosenthal- Piano
Matt Wilson – Drums
Martin Wind – Bass
Bobby Katz – Saxophone
The Bobby Katz Quartet returns to Hempstead House following a sold out performance in the summer of 2017. Featuring jazz veterans Ted Rosenthal, Martin Wind, and Matt Wilson, this group will perform their fresh interpretations of Great American Songbook standards. As a bandleader and sideman, Katz has performed at various venues in NYC including Dizzy's Club Coca-Cola, Jazz at the Kitano, and the Blue Note. In 2018, he was awarded third prize in the Vandoren Emerging Artist jazz saxophone competition.
ABOUT THE CONCERT
Enjoy a tribute to the bebop style of jazz that developed in the early to mid-1940s, characterized by upbeat tempos, complex chord progressions, and rapidly changing harmonies. From Charlie Parker, to Sonny Rollins, to Dizzy Gillespie, hear a number of bebop compositions that have since become jazz standards. In the second set, original compositions by members of the band in addition to more contemporary arrangements of Great American Songbook standards will be performed.
Concert 5: Thursday, July 23 – Canceled
1950s – Cool Jazz
AMP Trio
ABOUT THE BAND
Addison Frei – Piano
Perrin Grace – Bass
Matt Young – Drums
Kevin Sun – Guest Artist on Saxophone
Tahira Clayton – Guest Artist on Vocals
AMP Trio's debut at Hempstead House features guest artists Tahira Clayton on vocals and Kevin Sun on tenor saxophone. This trio has captured worldwide audiences for more than nine years with their contemporary jazz arrangements and original compositions. Past performances have been held at the Washington D.C. Jazz Festival, BMCC Tribeca Performing Arts Center in NYC, Dazzle Jazz in Denver, and the Jazz Room in Kitchener, Ontario. The group plans on releasing their fifth studio album in the spring.
ABOUT THE CONCERT
Enjoy AMP Trio's interpretations of jazz standards that defined the cool jazz sound of the 1950s, including the works of legendary composers and musicians Lennie Tristano, Dave Brubeck, and more. Guest tenor saxophonist, Kevin Sun will be featured in the first set. In the second set, the trio will be joined by vocalist Tahira Clayton to perform original music from the band's extensive catalogue.
Concert 6: Thursday, September 17 – Canceled
1920s-1950s – The Great American Songbook
Peter Bernstein Trio
ABOUT THE BAND
Widely recognized as one of the top jazz guitarists in the world, Peter Bernstein will debut at the Hempstead House to close out this series for an intimate trio performance. Mr. Bernstein has recorded on over 200 albums, and has released 12 of his own as a leader. He has enjoyed long musical associations with legendary drummer Jimmy Cobb, Joshua Redman, Diana Krall, and many more. Legendary jazz guitarist Jim Hall once noted that Bernstein "is the most impressive guitarist I've heard."
ABOUT THE CONCERT
The Peter Bernstein Trio will close out this concert series with an exciting and unique all-standards performance. Enjoy two sets of Great American Songbook standards in this all-encompassing concert that will cover music written throughout the various eras of jazz history. Hear your favorite jazz standards, in addition to lesser-known gems by the likes of Cole Porter, the Gershwins, Thelonious Monk, and more!
New Orleans Dixieland


January 16, 2020




8:00 pm - 10:00 pm

Canceled: The Jazz Age


March 19, 2020




8:00 pm - 10:00 pm

Canceled: Swing/Big Band Era


May 14, 2020




8:00 pm - 10:00 pm

Canceled: Bebop


June 18, 2020




8:00 pm - 10:00 pm

Canceled: Cool Jazz


July 23, 2020




8:00 pm - 10:00 pm

Canceled: The Great American Songbook


September 17, 2020




8:00 pm - 10:00 pm