Biologist and ranger Eric Powers knows the Preserve's wildlife and landscape like the back of his hand after years of leading marvelous nature programs, including the popular Owl Prowl, Pond Exploration, and the fantastic Overnight Wilderness Survival courses. He was just named Long Island Sierra Club Environmentalist of the Year!
In 2021, Ranger Eric will lead visitors of all ages on monthly exploratory walks across the Preserve's grounds. Each walk is unique. The Preserve will reveal itself throughout the seasons, and your expert guide will share a wealth of information about nature's wonders.
Purchase tickets in advance and meet at Castle Gould's Clock Tower. Social distancing is required, and face masks are requested for unvaccinated individuals.
2021 Outdoor Adventure Walks
Saturdays at 10 – 11:30 AM
January 30
February 27
March 27
April 24
May 29
June 26
July 3
July 31
August 28
September 25
October 30
November 27
December 18
TICKETS
Members: $12 per adult; $2 per child
Non-Members: $16 per adult, $6 per child; includes parking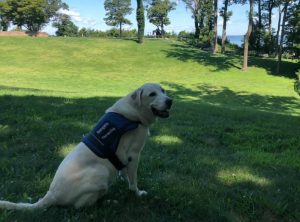 Ranger Eric's pal Gangsta will be going, too!
July 31, 2021




10:00 am - 11:30 am

August 28, 2021




10:00 am - 11:30 am

September 25, 2021




10:00 am - 11:30 am

October 30, 2021




10:00 am - 11:30 am

November 27, 2021




10:00 am - 11:30 am

December 18, 2021




10:00 am - 11:30 am