The Preserve's historic mansions and waterfront grounds are the backdrop for this unique chamber music series, created by Series Artistic Director Kathryn Lockwood.
Each concert features music and poetry, inspired by the time of year and themes of romance and resilience. Internationally renowned musicians present captivating performances with repertoire ranging from Beethoven, Bach, and Mozart to today's culturally diverse composers.
2022 Series
Bells of Autumn
Sunday, October 9 at 4 pm
Billiards Room at Hempstead House
Wine reception to follow
Tickets are $50 for Members, $50 for Non-Members
Min-Young Kim, Violin
Rachel Shapiro, Violin
Kathryn Lockwood, Viola
Raman Ramakrishnan, Cello
Derek Bermel, Clarinet
Yousif Sheronick, Percussion

The title "Bells of Autumn" is inspired by the addition of the clarinet to the roster; the origin of the word clarinet is Latin – "clarion" – and French – "clarine" or "little bell." The two centerpieces of the program are the gorgeous Brahms Clarinet Quintet and the equally compelling and lesser known Clarinet Quintet of American composer William Albright. The program also features music of Derek Bermel, who is also the clarinetist for this concert.  The finale will see the "little bell" pointing towards the sky as we kick up our heels with energetic Klezmer music. 
Tickets have been sold out for this performance.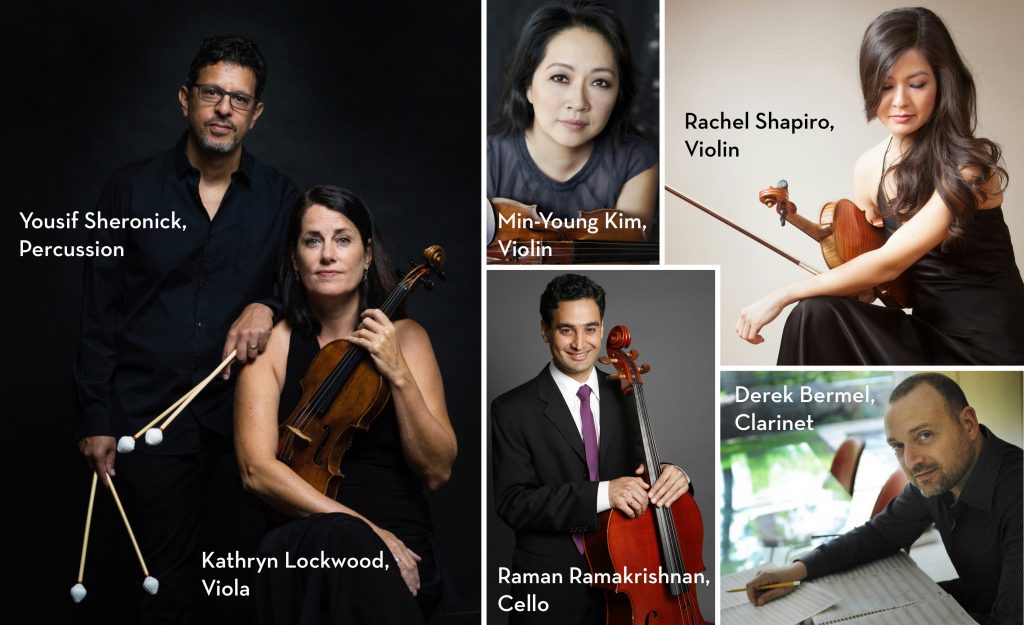 ________________________________
Intersections
Friday, July 8 at 7 pm
Concert Tickets are $50, Students 8-18 $40
duojalal: Kathryn Lockwood, Viola & Yousif Sheronick, Percussion
Time for Three: Nicolas Kendall, Violin & Vocals; Charles Yang, Violin & Vocals; Ranaan Meyer, Double Base & Vocals
Ensemble in residence duoJalal is joined by Time for Three, a genre-defying trio of two violins and cello for an exciting summer concert featuring works ranging from Bach to Leonard Cohen, Banjo Love to Monti's Czardas. These virtuosic musicians also sing, so music is powered by lyrics in a program that redefines classical music, defying its boundaries and conventions.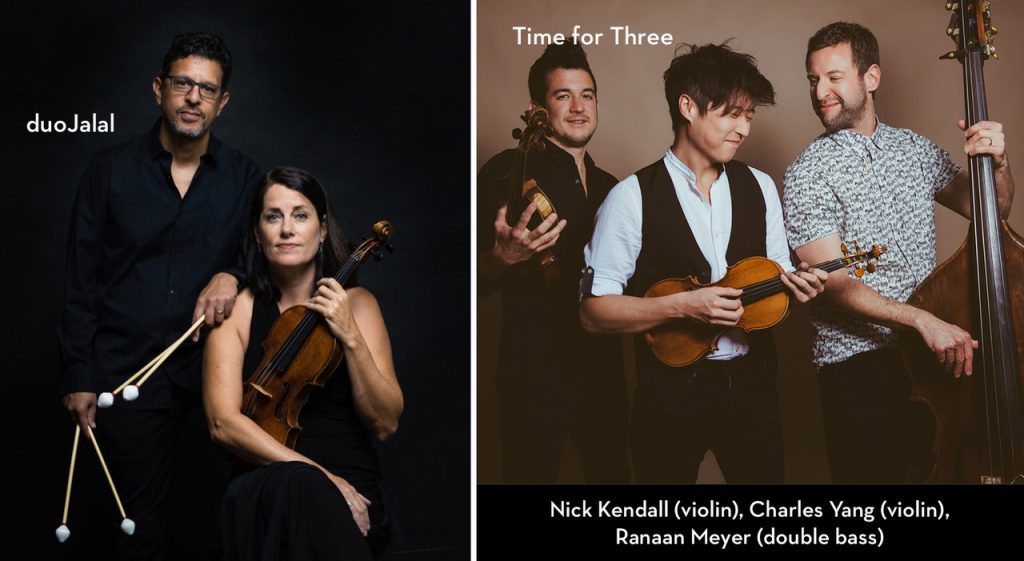 ________________________________
Ghosts of Spring
Sunday, May 15 at 12 pm, 2 pm, 4 pm
Tickets are $35 for Members, $40 for Non-Members
Three Live Performances in Hempstead House
duojalal: Kathryn Lockwood, Viola & Yousif Sheronick, Percussion
Inessa Zaretsky, Piano
Casey Howes & Jacob Michael Warren, Dancers/Choreographers
The spirits of lovers long departed are awakened in this powerful collaboration between musicians and dancers. The story unfolds as the performers and audience move from one room to another in historic Hempstead House. The ghosts will be reunited in this performance that includes works by Chopin (Nocturne in C minor for solo piano), Kurtag (In Nomine on solo viola), improvised percussion on the Bodhran and Inessa Zaretsky's Dervishes. Each performance concludes outdoors in the rose garden with "A Day in the Park."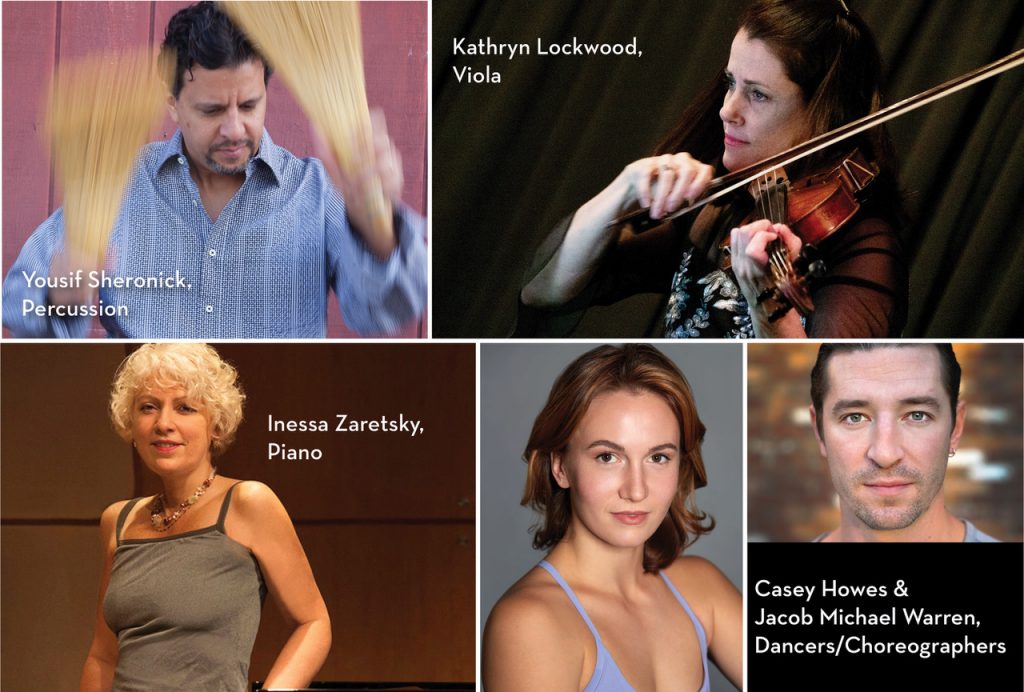 ________________________________
The Shape of Restlessness
YouTube Premiere: Sunday, March 20 at 8:15 pm
Deborah Buck, Violin
Rebecca Fischer, Violin
Kathryn Lockwood, Viola
Gregory Beaver, Cello
Yousif Sheronick, Percussion
The title "The Shape of Restlessness" is inspired by William Carlos Williams' poem "Flowers by the Sea" and takes place in a new location on the grounds of the Sands Point Preserve: Mille Fleurs – "one thousand flowers"  – a waterfront mansion designed for Florence Guggenheim in 1932. This mixed program for strings and percussion includes music powered by nature and emotion. The two centerpieces of the program are the magnificent central movement of Beethoven's Late String Quartet op. 132, which is a profoundly personal song of thanksgiving, and "A dying Land" from Australian composer Peter Sculthorpe's String Quartet No. 18, which reflects on the topic of climate change from the perspective of his homeland. We celebrate the 300 year anniversary of Bach's Well Tempered Klavier Book 1 with his C minor Prelude & Fugue arranged for string quartet; we celebrate nature with an Ocean Drum solo written for this concert by Yousif Sheronick, a dynamic solo violin piece by highly acclaimed composer Gabriela Frank describing Fireflies, and spiritual transcendence with "Ascending Bird" by Colin Jacobson. duoJalal will perform a Rumi-inspired commission "Your Boundaries are Your Quest" by Ljova; and the program includes the scherzo from French composer Debussy's only string quartet, which is heavily influenced by Gamelan music that he heard at the 1889 Paris Exposition.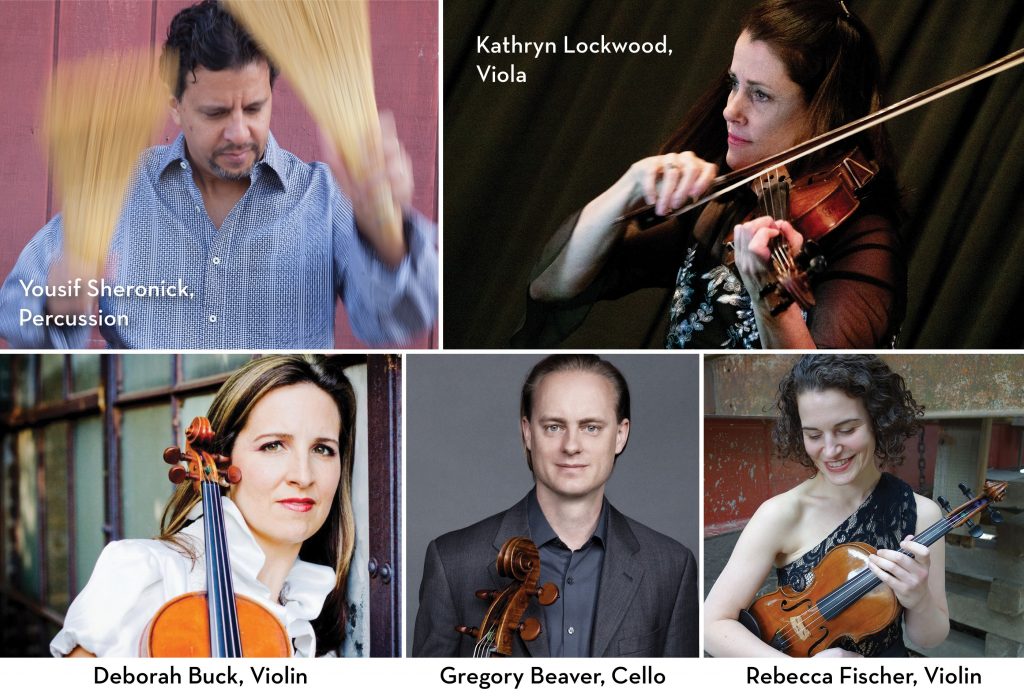 ________________________________
View these concerts on YouTube now:
2020 Spring –  Honey from Alast
2020 Golden Rule – A Summer Playlist
2020 Only Breath – A Fall Musicale
2021 – Winter Dreams
2021 – Spring Renewal    
2021  Be Like Water – A Summer Dance
2021 Fall – Connected Play
2022 Winter – The Shape of Restlessness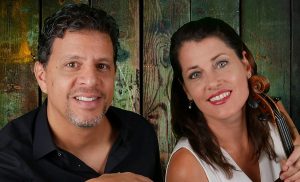 Kathryn Lockwood & Yousif Sheronick of duoJalal