Meet the extraordinary musicians who will perform in the Fall 2022 concert in the Four Seasons in Music series: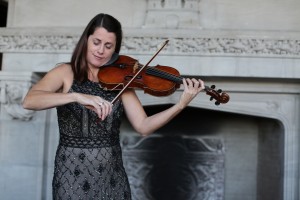 Kathryn Lockwood, Viola and Artistic Director
Australian violist Kathryn Lockwood leads an active and varied career as performer, teacher, and artistic director.  Kathryn's career launched straight out of graduate school as founding member of the Pacifica Quartet where she traveled the world concertizing and recording.  After moving to New York in 2001 Kathryn soon claimed the viola chair of the internationally renowned Lark Quartet.
Always evolving and thinking out of the box, Kathryn formed the innovative group duoJalal with percussionist and husband Yousif Sheronick.  Kathryn's creative mind led her to be appointed Artistic Director for the Four Seasons in Music at the Sands Point Preserve Conservancy – a very special series presenting four magical concerts with unique themed programs of chamber music and poetry.
Kathryn is also the Artistic Director for the "Music@MoMA" Series – an intimate salon style chamber music series and is newly appointed as co-artistic director of the Telluride MusicFest.  She has recorded for Innova, Bridge, Cedille and Endeavor records.  Kathryn is currently on faculty at University of Massachusetts/Amherst and at the John Cali School of Music at Montclair State University where she was recently appointed Curator of the Immersive Residency Program overseeing weeklong residency visits of internationally renowned artists and groups. www.kathrynlockwood.com
Y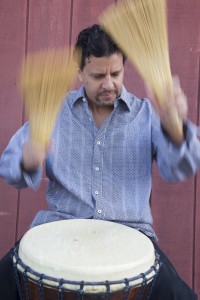 ousif Sheronick, Percussion 
Hailed by the New York Times for his "dazzling improvisations" and his "wizardry on a range of humble frame drums" Yousif Sheronick enjoys an active career as percussionist, composer, producer and educator. Having studied classical percussion through a Masters degree at Yale, Yousif went on to study music from Brazil, India, Africa and the Middle East which he seamlessly incorporates into his playing.
Yousif's unique skills in both World and Classical music have led him to perform with a diverse range of ensembles and musicians including Philip Glass, Yo-Yo Ma, Laurie Anderson, Ethos Percussion Group, Lark Quartet, Silk Road Ensemble, Branford Marsalis, Sonny Fortune, Cindy Blackman Santana, Glen Velez and Paul Winter.
A feature article in Drum! Magazine highlighted Yousif's versatility in an article titled "At The Corner Of The World".  His many musical influences are showcased in duoJalal, his venture with violist and wife Kathryn Lockwood. Kathryn and Yousif are the new co-directors of the Telluride MusicFest which is a yearly summer festival in the gorgeous mountains in CO.  A firm believer in the power of education, Yousif recently established an online school FrameDrumSchool.org and now has over 700 enrolled students from 54 countries around the world.   
duoJalal, Ensemble in Residence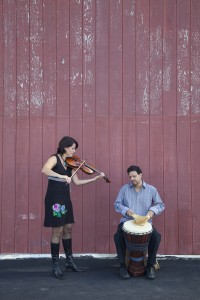 duoJalal "are fearless seekers and synthesizers of disparate instruments and cultures" raves the Toronto Star.  Like the marriage between Kathryn Lockwood and Yousif Sheronick, their music represents an organic amalgam of cultural traditions and musical styles.  Audiences are enthralled as an Australian violist ignites her instrument with passion – one minute embodying a medieval rebec, the next a contemporary violist playing Philip Glass.  Yousif, of Lebanese descent, dazzles as he manipulates multiple sounds on an array of hand drums followed by intoxicating melodies on vibraphone.  duoJalal moves from Classical to Klezmer, Middle Eastern to Jazz, with a skillful confluence that is natural, exploratory, and passionate.   duoJalal has performed throughout the United States, Australia and Brazil regularly performing world premieres of works composed or arranged for the group by Philip Glass, Andrew Waggoner, Derek Bermel, Kenji Bunch, Evan Ziporyn, Eve Beglarian and John Patitucci.
As the ensemble in residence for the Four Seasons in Music concert series, the duo have the luxury of collaborating with an array of top tier artists including string players, vocalists, clarinets, dancers and more!  Known for their outstanding teaching skills, duoJalal offers masterclasses and clinics for string soloists and ensembles as well as drumming workshops to both children and adults. Recent masterclasses were held at Manhattan School of Music, New York University and the Percussive Arts Society's International Convention.  Kathryn and Yousif are proud to announce a new position as co-artistic directors and ensemble in residence of the Telluride MusicFest.  A festival housed in a gorgeous mountain home situated at 10,000 feet!
FALL GUEST ARTISTS:
Derek Bermel, clarinet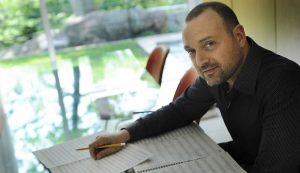 Derek Bermel's engagement with musical cultures worldwide has become part of the fabric and force of his compositional language. He studied folk styles and traditions in Bulgaria, Ireland, Ghana, Brazil, Israel, and composition with Louis Andriessen, William Bolcom, and Henri Dutilleux. His music has been commissioned and performed by celebrated artists, orchestras, and ensembles at festivals worldwide, and he has collaborated with writers Sandra Cisneros, Will Eno, Nicole Krauss, and Wendy S. Walters, sculptor Sook-Jin Jo, composer/performers Wynton Marsalis, Paquito D'Rivera, and Luciana Souza, choreographer S. Ama Wray, and hip hop legend Yasiin Bey (Mos Def). Honors include the Herb Alpert Award, Rome Prize, American Academy of Arts and Letters, and Guggenheim and Fulbright Fellowships.
As clarinetist he has performed on major stages across Europe, Asia, and the Americas. Bermel is Artistic Director of the American Composers Orchestra, Director of Copland House's CULTIVATE institute, and curator of Gamper Contemporary Week at the Bowdoin International Music Festival. He has been nominated for Grammy Awards for best composition and soloist with orchestra. DerekBermel.com
Min-Young Kim, violin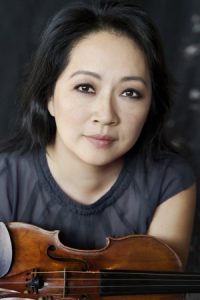 A founding member of the acclaimed Daedalus Quartet, violinist Min-Young Kim enjoys a career that highlights her versatility as a performing musician. As first violinist of the Daedalus Quartet, she performs regularly throughout the United States, Canada, Europe and Asia, and has been presented by many of the world's leading musical venues including Lincoln Center, the Library of Congress, the Musikverein in Vienna, and the Concertgebouw in Amsterdam.
In addition, she has toured with Musicians from Marlboro, Orpheus Chamber Orchestra and East Coast Chamber Orchestra and has performed in chamber music festivals across the US, France and Singapore.
An advocate for the music of our time, Ms. Kim enjoys working closely with composers and has commissioned and premiered many new works including those of Fred Lerdahl, Anna Weesner, Huck Hodge, and Wolfgang Rihm. She can also be heard on historical violin in the baroque orchestras, Tempesta di Mare and Apollo's Fire, with whom she recorded and performed as a soloist.
A dedicated teacher, Ms. Kim holds degrees from Harvard, Juilliard and the Cleveland Institute of Music, and currently teaches at the University of Pennsylvania.
Rachel Kitagawa Shapiro, violin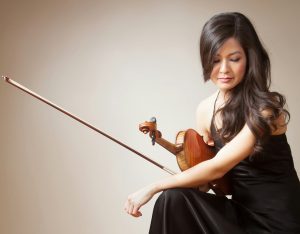 Brooklyn-based violinist Rachel Kitagawa Shapiro enjoys a vibrant and diverse career as a chamber musician and educator. She is a founding member and second violinist of the critically acclaimed Aeolus Quartet, now in their fourteenth season together. An active collaborator, Ms. Shapiro has also appeared with The Knights, Orpheus Chamber Orchestra, Mark Morris Dance Group Music Ensemble, and the NY Philharmonic. She is an Adjunct Professor of Violin at Montclair State University and has previously served as Professorial Lecturer at George Washington University and as a Teaching Artist at the Brooklyn High School of the Arts. She has recorded for Naxos and Azica record labels and on a recent album by The National. Ms. Shapiro holds an Artist Diploma from the Juilliard School and a Doctor of Musical Arts degree from the University of Maryland. Her work has been published in Strings magazine. She performs on a 1991 Samuel Zygmuntowicz violin graciously on loan to her through the Five Partners Foundation.
Raman Ramakrishnan, cello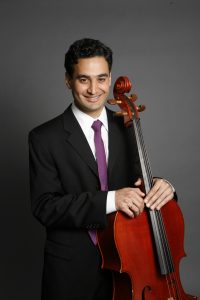 For eight seasons, as a founding member of the Horszowski Trio, and for eleven seasons, as a founding member of the Daedalus Quartet, cellist Raman Ramakrishnan has performed across North America, Europe, and Asia, and recorded for Bridge Records and Avie Records. He is currently a member of the Boston Chamber Music Society and is on the faculty of the Bard Conservatory of Music. In the summers, he has performed at the Marlboro, Vail, and Kingston Chamber Music festivals, and served on the faculties of the Kneisel Hall and Norfolk Chamber Music Festivals.
Mr. Ramakrishnan was born in Athens, Ohio and grew up in East Patchogue, New York. He holds a Bachelor's degree in physics from Harvard University and a Master's degree in music from The Juilliard School. His principal teachers have been Fred Sherry, Andrés Díaz, and André Emelianoff. He plays a Neapolitan cello made by Vincenzo Jorio in 1837.