Four magical concerts
in spectacular locations
across the Sands Point Preserve
The Preserve's historic mansions and waterfront grounds are the backdrop for this unique chamber music series, created by Series Artistic Director Kathryn Lockwood. Each concert features music and poetry, inspired by the time of year and themes of romance. Brilliant, internationally renowned musicians and spoken word artists present captivating, thought-provoking performances with repertoire ranging from Beethoven, Bach, and Mozart to today's culturally diverse composers. The final concert in the series celebrates the 'marriage' of music and dance with the remarkable choreography of Pilobolus.
________
Winter: A Musical New Year
Saturday, February 1
________

Spring: "Honey from Alast"
A Musical Journey of Hope & Resilience
View the concert on YouTube
________

Concert 3: "Golden Rule – A Summer Playlist"
View the concert on YouTube starting July 12
Todd Reynolds, Violin
Kathryn Lockwood, Viola
Gregg August, Bass
Yousif Sheronick, Percussion
Program
"Adagio" in G minor, Sonata No. 1 BWV 1001 by J.S. Bach
"To the Swimmer" (1918) by Countee Cullen
"Changes" World Premiere by Allison Loggins-Hull
"Los Trés Golpes" for violin & bass by Ignacio Cervantes, arr. Gregg August
"Shaker Talk"for shakers by Yousif Sheronick
"Peacock Feather" by Effie Lee Newsome
"Karakurenai" (Crimson) by Andy Akiho
"44 Duos" for Violin & Viola, Sz. 98, BB 104 by Béla Bartók
No. 17 Hungarian March No. 1 Tempo di marcia, allegramente
No. 18 Hungarian March No. 2 Tempo di marcia
No. 28 Sadness Lento, poco rubato
No. 43 Pizzicato Allegretto
No. 32 Dancing Song Allegro giocoso
"In Summer" by Laurence Dunbar
"Summer in the High Grassland" by Zhao Jiping
"Golden Rule" Improv.
"A Wreath for Emmett Till" by Marilyn Nelson
"Your Only Child" by Gregg August
"Zeina & Longa" Middle Eastern Medley by Mohamed Abdul Wahab & Riad El-Soumbati
Please check back for updates on the Fall concert.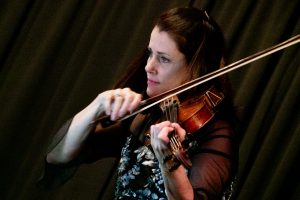 Kathryn Lockwood, Artistic Director
Four Seasons in Music
Summer


July 12, 2020




7:00 pm - 8:00 pm