Four magical concerts
with themed culinary experiences
in beautiful locations
across the Sands Point Preserve
________
Winter: A Musical New Year
Saturday, February 1 – Sold Out!
Hempstead House's Winter Living Room
Spring: "Honey from Alast"
A Musical Journey of Hope & Resilience
View the concert on YouTube starting Saturday, May 23 at 7 PM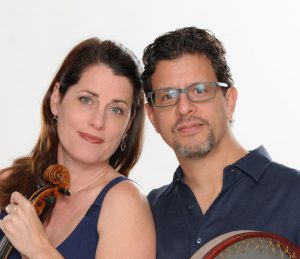 Download the suggested Spring dinner menu for home cooks, inspired by the cultures represented in the program.
Please check back for updates on the Summer & Fall concerts.
________

The Preserve's historic mansions and waterfront grounds are the backdrop for this unique chamber music series, created by Series Artistic Director Kathryn Lockwood. Each concert features music and poetry, inspired by the time of year and themes of romance. Brilliant, internationally renowned musicians and spoken word artists will present captivating, thought-provoking performances with repertoire ranging from Beethoven, Bach, and Mozart to today's culturally diverse composers. The final concert in the series celebrates the 'marriage' of music and dance with the remarkable choreography of Pilobolus.
Concert 1: A Musical New Year
February 1 – Sold Out!
Rebecca Fischer, Violin; Kathryn Lockwood, Viola; Michael Katz, Cello; Abigail Fischer, Soprano & Poetry Reader, and Yousif Sheronick, Percussion.
Program:
"Suite No. V in C minor – Allemande" BVW 1011 for Cello by J.S. Bach
"Non piu di fiori" Aria for Sprano and String Trio by W.A. Mozart
"Duo for Viola and Percussion" by Philip Glass
"String Trio in C Minor, Op 9/3 – Presto" by Ludwig van Beethoven
Two Songs from "Seven Early Songs" for Soprano and String Trio by Alban Berg, arr. Jason Slayden
"Lost & Found" for Viola and Percussion by Kenji Bunch
"Three Irish Country Songs" for Soprano and Violin by Rebecca Clarke
Four Tunes from "Seven Tunes Heard in China" for Solo Cello by Bright Sheng
"Serenade in C Major – Rondo" for String Trio by Erno Dohnanyi
"Come My Beloved" for Soprano and Percussion, a Judeo-Arabic-Adalusian Folk Tune, arr. by Jacob Kerzner
"Tonga" for Soprano, String Trio, and Percussion, by G. Schiavone & Faraualla, arr. by Jacob Kerzner
"Brano Ramelaj" for Soprano, String Trio, and Percussion, a Traditional Hungarian Folk Tune, arr. by Jacob Kerzner
Concert 2: "Honey from Alast"
A Musical Journey of Hope & Resilience
View on YouTube starting May 23 at 7 PM
Special performance by duoJalal
Kathryn Lockwood, Viola
Yousif Sheronick, Percussion
The Sands Point Preserve is closed as a health precaution during the COVID-19 pandemic, so the concert originally planned will be rescheduled in the future – and we welcome duoJalal for a special concert, which will be recorded and posted on the Conservancy's YouTube channel for everyone to enjoy.
The inspiration for this concert's title is a poem by 13th-Century poet Jalal al-Din Rumi: "Honey from Alast" – it speaks to why we need music in our lives – music passes through our ears and into our souls – music nourishes, sows seeds, and gives life.
"Honey from Alast" by Jalal al-Din Rumi
Welcome, melody – you are that melody which has brought a sign from the spiritual world.
Pass by the ear and strike upon our souls, for you are the life of this dead world.
Ravish the soul and go aloft into that world where you have carried the heart.
Your laughing moon bears evidence that you have quaffed that heavenly wine.
Your sweet soul gives a sign that you were nourished in honey from Alast.
Blades have begun to sprout from the earth to show the sowings that you have made.
Download the suggested Spring dinner menu for home cooks, inspired by the cultures represented in the program.
Program: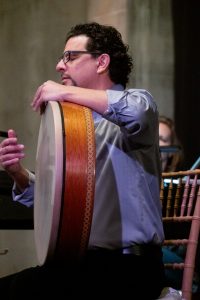 "Prelude in C Major" for Solo Viola, BWV 1009 by J.S. Bach (1685-1750)
"Danza del Fuego" by John T. La Barbera (b. 1950)
Percussion: Dumbek
"Birds in Warped Time III" (1983) by Somei Satoh (b. 1947)
Percussion: Vibraphone
"Doubtful Sound" for Solo Frame Drum (2018) by Yousif Sheronick (b. 1967)
Percussion: Bodhran
"Capriccio" Op.55 for Solo Viola (1875) by Henri Vieuxtemps (1820-1881)
"Honey from Alast" by Evan Ziporyn (b.1959)
Percussion: Vibraphone, Riq, Bodhran, and Cajon
"Jubb Jannin" by Yousif Sheronick (b. 1967)
Percussion: Bendir – Moroccan Frame Drum
"a different world" by Enzo Rao Camemi (b. 1957)
Percussion: Cajon – Peruvian Box Drum
Program Notes: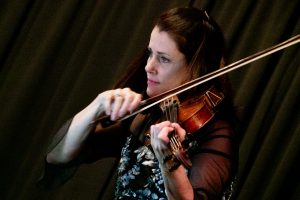 300 years ago, J.S. Bach wrote some of the best solo repertoire for the relatively new instrument, the modern cello. The "Six Suites for the Solo Cello" – played on viola for this concert – are among the best known and most sublime music ever written. The opening movement entitled Prelude in C Major from his third suite, exploits the rich scales and arpeggios of the instrument's middle and low registers, taking full advantage of the glorious resonance of the viola included. The C Major Suite was chosen because the key is associated with complete purity and simplicity.
Danza del Fuego Duo (Dance of Fire) by John T. La Barbera showcases the composer's expertise in Italian traditional and pan-Mediterranean music.  John is recognized as a pioneer in reviving Southern Italian folk music, on which he has published two books with Mel Bay Publications. Danza del Fuego was first recorded on the CD "In The Labyrinth" with John performing on guitar and Yousif Sheronick on percussion.  Kathryn Lockwood transcribed the guitar part and adapted it to the viola.
Japanese composer Somei Satoh originally composed Birds in Warped Time for the Japanese flute (shakuhachi) and the Japanese harp (koto). The composer made his own transcription of the piece for violin and piano, (Birds in Warped Time II), and today you will hear the third version of this piece for viola and vibraphone (Birds in Warped Time III). The long, undulating tones of the viola clearly mimic the pitch variations characteristic of the shakuhachi with slow gliding between pitches and the use of varying widths and speed of the left hand vibrato. The rhythmic patterning in the vibraphone creates a simultaneous feeling of movement and stillness clearly representing Satoh's origins as a minimalist composer of the 1970's.
Doubtful Sound by Yousif Sheronick was inspired by a trip to New Zealand for his 50th birthday.  A journey through Doubtful Sound, a fiord in the far south west of New Zealand, was utterly spectacular and jaw dropping. From the seal colony at the mouth of the sound, the rough and jagged razor-backed mountains, and its serene inner passages, this piece seeks to capture and recreate a journey from the sea inward. Doubtful Sound was commissioned and premiered by Mark Suter.
Showing resilience, Belgian composer Henri Vieuxtemps turned his focus to composing after suffering from a stroke at age 53, which affected his right arm and effectively ended his performing career. Capriccio for Solo Viola is subtitled 'homage to Paganini' and is a fine example of Vieuxtemps' inventiveness when it comes to melodic expression and form. Virtuosity is never entirely absent, with plenty of chords and double-stopping, but this is always in the service of the quality of the material.
Honey from Alast by American composer Evan Ziporyn is based on the words of 13th Century poet Rumi and was written for duoJalal's The Rumi Experience. Music in the poem is described as spiritual and material, a 'sign from the spiritual world' but also a physical object that 'passes by the ear and strikes our souls' – as intoxicant, sustenance, but also as a generative force. To experience the true spirit of Rumi, there are elements of Middle Eastern modes, Indian rhythms & Balkan meters, African ideas about cycle, and Indonesian timbres.  To celebrate spring: Blades have begun to sprout from the earth to show the sowings that you have made.
Jubb Jannin is the village where Yousif's mother grew up in Lebanon, a country with overwhelming beauty and heart. This piece is inspired by Yousif's earliest musical memories of his mother singing over a drone, usually the vacuum or their 1967 Buick (which had a nice hum in the backseat). Jubb Jannin was originally written for the Nay (Middle Eastern flute), and the solo section has been adapted from Bassam Saba's original Nay improvisation. Having just celebrated Mother's Day, we wanted to play this beautiful piece today in honor of Mariam Sheronick who passed away last November.
 A Different World by Enzo Rao Camemi was originally written for violin and frame drums. It was performed and recorded by Camemi, who changes the time signature in the main statement between 7/4 and 8/4, giving the piece an easy but uneven gait. The piece includes a violin (now viola) solo and a percussion solo before it returns to the opening statement.  With the pandemic keeping us all home, we are currently living in a new normal and a very different world.
"without rush, without engines; we would all be together in a sudden strangeness." – Pablo Neruda
Please check back for updates on the Summer and Fall concerts.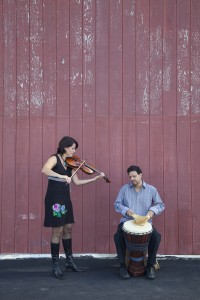 Four Seasons in Music Artistic Director Kathryn Lockwood
and Percussionist Yousif Sheronick
Winter


February 1, 2020




6:30 pm - 9:30 pm

Spring


May 23, 2020




7:00 pm - 8:00 pm