Meet the extraordinary musicians who will perform in the Winter 2023 concert in the Four Seasons in Music series: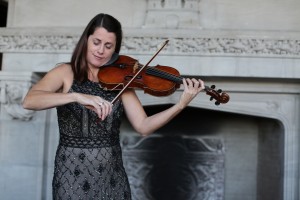 Kathryn Lockwood, Viola and Artistic Director
Australian violist Kathryn Lockwood leads an active and varied career as performer, teacher, and artistic director.  Kathryn's career launched straight out of graduate school as founding member of the Pacifica Quartet where she traveled the world concertizing and recording.  After moving to New York in 2001 Kathryn soon claimed the viola chair of the internationally renowned Lark Quartet.
Always evolving and thinking out of the box, Kathryn formed the innovative group duoJalal with percussionist and husband Yousif Sheronick.  Kathryn's creative mind led her to be appointed Artistic Director for the Four Seasons in Music at the Sands Point Preserve Conservancy – a very special series presenting four magical concerts with unique themed programs of chamber music and poetry.
Kathryn is also the Artistic Director for the "Music@MoMA" Series – an intimate salon style chamber music series and is newly appointed as co-artistic director of the Telluride MusicFest.  She has recorded for Innova, Bridge, Cedille and Endeavor records.  Kathryn is currently on faculty at University of Massachusetts/Amherst and at the John Cali School of Music at Montclair State University where she was recently appointed Curator of the Immersive Residency Program overseeing weeklong residency visits of internationally renowned artists and groups. www.kathrynlockwood.com
Y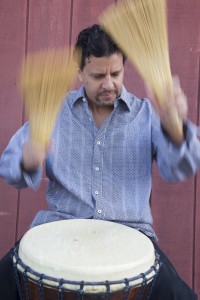 ousif Sheronick, Percussion 
Hailed by the New York Times for his "dazzling improvisations" and his "wizardry on a range of humble frame drums" Yousif Sheronick enjoys an active career as percussionist, composer, producer and educator. Having studied classical percussion through a Masters degree at Yale, Yousif went on to study music from Brazil, India, Africa and the Middle East which he seamlessly incorporates into his playing.
Yousif's unique skills in both World and Classical music have led him to perform with a diverse range of ensembles and musicians including Philip Glass, Yo-Yo Ma, Laurie Anderson, Ethos Percussion Group, Lark Quartet, Silk Road Ensemble, Branford Marsalis, Sonny Fortune, Cindy Blackman Santana, Glen Velez and Paul Winter.
A feature article in Drum! Magazine highlighted Yousif's versatility in an article titled "At The Corner Of The World".  His many musical influences are showcased in duoJalal, his venture with violist and wife Kathryn Lockwood. Kathryn and Yousif are the new co-directors of the Telluride MusicFest which is a yearly summer festival in the gorgeous mountains in CO.  A firm believer in the power of education, Yousif recently established an online school FrameDrumSchool.org and now has over 700 enrolled students from 54 countries around the world.   
duoJalal, Ensemble in Residence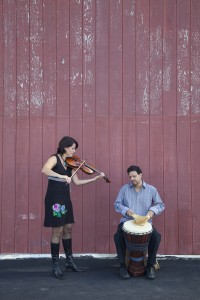 duoJalal "are fearless seekers and synthesizers of disparate instruments and cultures" raves the Toronto Star.  Like the marriage between Kathryn Lockwood and Yousif Sheronick, their music represents an organic amalgam of cultural traditions and musical styles.  Audiences are enthralled as an Australian violist ignites her instrument with passion – one minute embodying a medieval rebec, the next a contemporary violist playing Philip Glass.  Yousif, of Lebanese descent, dazzles as he manipulates multiple sounds on an array of hand drums followed by intoxicating melodies on vibraphone.  duoJalal moves from Classical to Klezmer, Middle Eastern to Jazz, with a skillful confluence that is natural, exploratory, and passionate.   duoJalal has performed throughout the United States, Australia and Brazil regularly performing world premieres of works composed or arranged for the group by Philip Glass, Andrew Waggoner, Derek Bermel, Kenji Bunch, Evan Ziporyn, Eve Beglarian and John Patitucci.
As the ensemble in residence for the Four Seasons in Music concert series, the duo have the luxury of collaborating with an array of top tier artists including string players, vocalists, clarinets, dancers and more!  Known for their outstanding teaching skills, duoJalal offers masterclasses and clinics for string soloists and ensembles as well as drumming workshops to both children and adults. Recent masterclasses were held at Manhattan School of Music, New York University and the Percussive Arts Society's International Convention.  Kathryn and Yousif are proud to announce a new position as co-artistic directors and ensemble in residence of the Telluride MusicFest.  A festival housed in a gorgeous mountain home situated at 10,000 feet!
WINTER GUEST ARTISTS: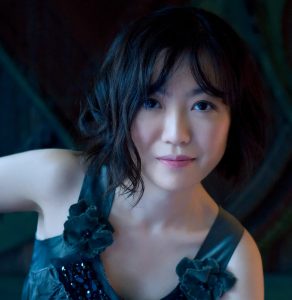 Rieko Aizawa, Piano
Praised by the NY Times for an "impressive musicality, a crisp touch and expressive phrasing," Japanese pianist Rieko Aizawa has performed throughout the U.S., Canada and Europe, including at New York City's Lincoln Center, Boston's Symphony Hall, Chicago's Orchestra Hall, Vienna's Konzerthaus, and London's Wigmore Hall.
At just thirteen, Ms. Aizawa was brought to the attention of conductor Alexander Schneider on the recommendation of pianist Mitsuko Uchida and as the youngest-ever participant at the Marlboro Music Festival, she performed with string quartets such as the Guarneri Quartet and the Orion Quartet. Ms. Aizawa has appeared in numerous festivals, such as the Marlboro Music Festival; Bowdoin Festival; the Kammermusik Festival of Moritzburg, Germany; and has been a guest artist of Boston's, Philadelphia's and Seattle's Chamber Music Societies. She is a founding member of the prize-winning Duo Prism and of the Horszowski Trio, which honors the legacy of her teacher Mieczyslaw Horszowski. Ms. Aizawa became artistic director of the Alpenglow Chamber Music Festival in Colorado in 2010.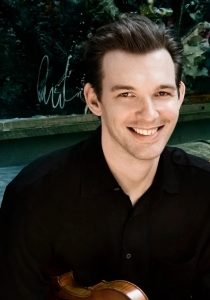 Jesse Mills, Violin
Two-time Grammy nominated violinist Jesse Mills enjoys performing music of many genres, from classical to contemporary, as well as composed and improvised music of his own invention.
Since his concerto debut at the Ravinia Festival in Chicago, Mr. Mills has performed throughout the U.S. and Canada both as soloist and as a chamber musician. Mills is co-founder of Horszowski Trio and Duo Prism, a violin-piano duo with Rieko Aizawa, which earned 1st Prize at the Zinetti International Competition in Italy in 2006. With Ms. Aizawa, Mills became co-artistic director of the Alpenglow Chamber Music Festival in Colorado in 2010.
Mills is also known as a pioneer of contemporary works, a renowned improvisational artist, as well as a composer. He earned Grammy nominations and can also be heard on the Koch, Centaur, Tzadik, Max Jazz and Verve labels for various compositions of Webern, Schoenberg, Zorn, Wuorinen, and others. As a composer and arranger, Mills has been commissioned by venues including Columbia University's Miller Theater, the Chamber Music Northwest festival in Portland, OR and the Bargemusic in NYC.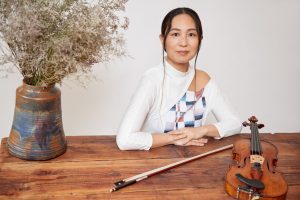 Hyeyung Sol Yoon, Violin
Hyeyung Sol Yoon (she/her) is an artist at the margins of her American and Korean identities who plays the violin, composes, teaches, and organizes arts communities in a career that spans over 2 decades. Hyeyung's experience of immigrating to the U.S. from Korea at the age of 7 and later traveling to her motherland to experience Korea's shaman rituals and folk performances continue to inspire and inform her own creative work.
Current projects include composing and performing a collection of musical poems: Uhmuhni, a collaboration between Yoon and Hanji artist Aimee Lee inspired by the often unheard stories of Korean and Korean-American women. She is the founder of Asian Musical Voices of America (AMVA), an organization devoted to community-building and activism for change for Asian diasporic musicians, and was a violinist in the Chiara String Quartet for 18 years before celebrating the ensemble's last season in 2018. The Chiara held residencies at Harvard University, Metropolitan Museum of Art, and the University of Nebraska-Lincoln, touring and performing many works by heart, including the complete string quartets of Béla Bartók at the Ravinia Festival in 2016.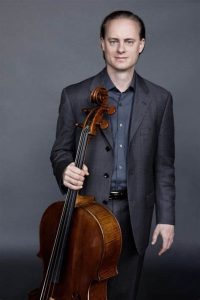 Gregory Beaver, Cello
Cellist and composer Gregory Beaver lives a double life. He was cellist of the Grammy-nominated Chiara String Quartet for 18 years, recording many albums and holding artist residencies at Harvard University, and the Metropolitan Museum of Art. Since 2021, Gregory has composed almost 2 hours of music including "How to Survive a Pandemic" for solo piano, "An American Requiem" for choir plus orchestra, and "Lucid Dreams" for solo cello. He is currently writing a song cycle for baritone and piano for a 2024 premiere at the San Francisco Conservatory. His secret identity is as a Staff Software Engineer at Braze, Inc. where he is a leader building creative tools in the world of Typescript and React.
Gregory lives with his wife, violinist Hyeyung Yoon, two daughters, and a cat in Jersey City, NJ. He plays a fine cello made by David Tecchler c. 1725.